I thought you might enjoy seeing the process behind a recent custom order for the local band Detective Agency. Nate, Amy, Kyle, and Ulrika are pretty spectacular, and with a suggestion of using orange in some capacity, I began my pondering.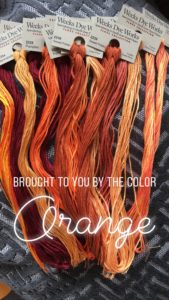 I found a number of amazing overdyed Weeks Dye Works floss packets at The Cottage Needle, all in spectacular shades of orange. I first learned about Weeks Dye Works from The Frosted Pumpkin Stitchery, one of the first companies in the early 2000s that offered contemporary cross stitch patterns.
I spent lots of time on the Frosted Pumpkin website when I was in the hospital because I kept making plans for all of the cross-stitch projects I was going to do after I was well enough to leave. I, surprisingly, did make progress on many of them, even finishing a few!
I pictured the font that might be used on the windowed door of a 1970s detective agency. Something along the lines of this: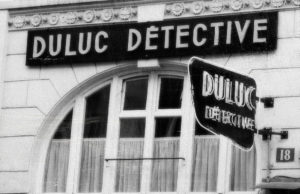 I was also inspired by mid-century pulp fiction, although those vibes didn't really make their way into the final product.
Here's the final piece, both front and back. I found this fabric at Stitches Seattle and immediately knew I wanted to use it as a backing fabric. It was too busy for my regular work, but made a perfect pop of color when a piece is turned over.